Financing Available – Apply Now
23 Selection Snack and Candy Vending Machine
3-wide ambient snack machine with 23 selections of snack and pastries, candy and gum / mints with a total capacity of 384 items

Factory Parts Warranty

Coin Changer and Bill Acceptor included

Cloud-based telemetry included with optional credit card reader (sales reports, restock report, information at your fingertips)

Equipped with iVend Guaranteed Delivery
iVend Guaranteed Delivery
It virtually eliminates misvends and ensures that your customers receive their products or their money back. Earn customers' trust and save costs that would have been spent on replacing products that were not vended. 

Coin Changer and Bill Acceptor
The Conlux dollar bill validator accepts $1 & $5 bills, and the Conlux coin changer will accept nickels, dimes, quarters and returns change in coins.

LED Lighting
Eco-friendly LED lighting uses less energy and runs cooler than traditional lighting makes it easy for your customers to use the machine while saving you money on your electricity bill. 

Factory Parts Warranty
Solid Shield Extended Warranty Purchase additional protection for your vending equipment that goes beyond the scope of the standard Limited Parts warranty.

Made in the U.S.A.
For 90 years, we've manufactured top-quality vending machines in the U.S. to ensure reliable operations for years to come. Invest with confidence in a trusted, long-standing top manufacturer. *(May include U.S. and imported components)

Lifetime Technical Support
Vendnet is your one-stop shop for all things vending – parts, services, and products. Get online support with vending manuals, how-to videos, and easy parts ordering.

Solid Shield Extended Warranty
Available in 12, 24 and 36 month options, our Solid Shield Extended Warranty provides protection against defects in materials and/or workmanship beyond the term of the Factory Parts Warranty.
Greenlite Cashless
Accept all major credit/debit cards and mobile payments with Greenlite. Enjoy 24/7 web-based remote monitoring, sales reports, cash and cashless machine information, and a suite of management tools at your fingertips.

UVC Light Sanitation Technology
UVC light sanitation technology makes the high-touch surfaces of vending machines safer by quickly killing or inactivating up to 99.9% of common viruses and bacteria, including influenza and the COVID-19 virus.

Custom Graphic Wrap
Enhance customer engagement with a customized graphic design that is meaningful to the location and supports your brand. This is a great way to add a special touch, making your vending machine stand out and promote your business.
Bezel Upgrade
Make your machine stand out by adding a stylish monetary and delivery bezel featuring a back-lighted point of sale window.
Please note: Total processing time for custom orders is approximately 8-12 weeks once you have provided artwork files and approved the Artwork Proof.
The Top-Notch
eVending Experience
Product Details
The 23 Selection Snack and Candy  Vending Machine is your flexible and affordable snack machine option making it the ideal choice for seasoned vending operators and first vending machine owners. With LED lit product display, built-in security, and quality construction, this vending machine will surely please and provide you with years of reliable service. 
With a total capacity of 384 items (132 snacks and pastries, 180 candy and confections, 72 gum, and mint), offer your customers twenty-three (23) different selections of chips, candy, gum, mints, and pastries. The five (5) pull-out tilt trays are designed to make loading a breeze. The Snack and Candy Vending Machine features adjustable flex trays that can be easily configured to fit almost any package size, giving you more freedom for your snack selections.
The Snack and Candy Vending Machine is equipped with an advanced Conlux electronic coin acceptor and bill validator that accepts both $1 and $5 bills. It also allows you to set unique prices by selection, ranging from $0 to $99.95. This snack machine has a GVC1 controller, LED lighting, a Braille keypad, and our iVend® guaranteed delivery system, making it a reliable and convenient option for any business.
| | |
| --- | --- |
| Selections | 23 Items Standard |
| Capacity | 354 Items (160 Snack & Pastry / 198 Candy & Confections / 80 Gum & Mint) |
| Payment Systems | Premium Electronic Coin Acceptor; $1, $5, $10 & $20 Bill Acceptor (Set for $1 & $5) |
| Electrical Requirements | Domestic: 115 VAC/60Hz, 1.2 AMPS International: 230 VAC/50Hz, 0.6 AMPS |
| Height | 72" (183 cm) |
| Width | 29.3" (74.4 cm) |
| Depth | 34.75" (88.3 cm) |
| Shipping Weight | *431 lbs. (195.4 kg) *Varies with configuration & options. |
| Note | Models with coils can be easily changed as required for vending different size products. Coils and dividers as well as individual tray price scrolls are available from our parts division Vendnet for an additional cost. |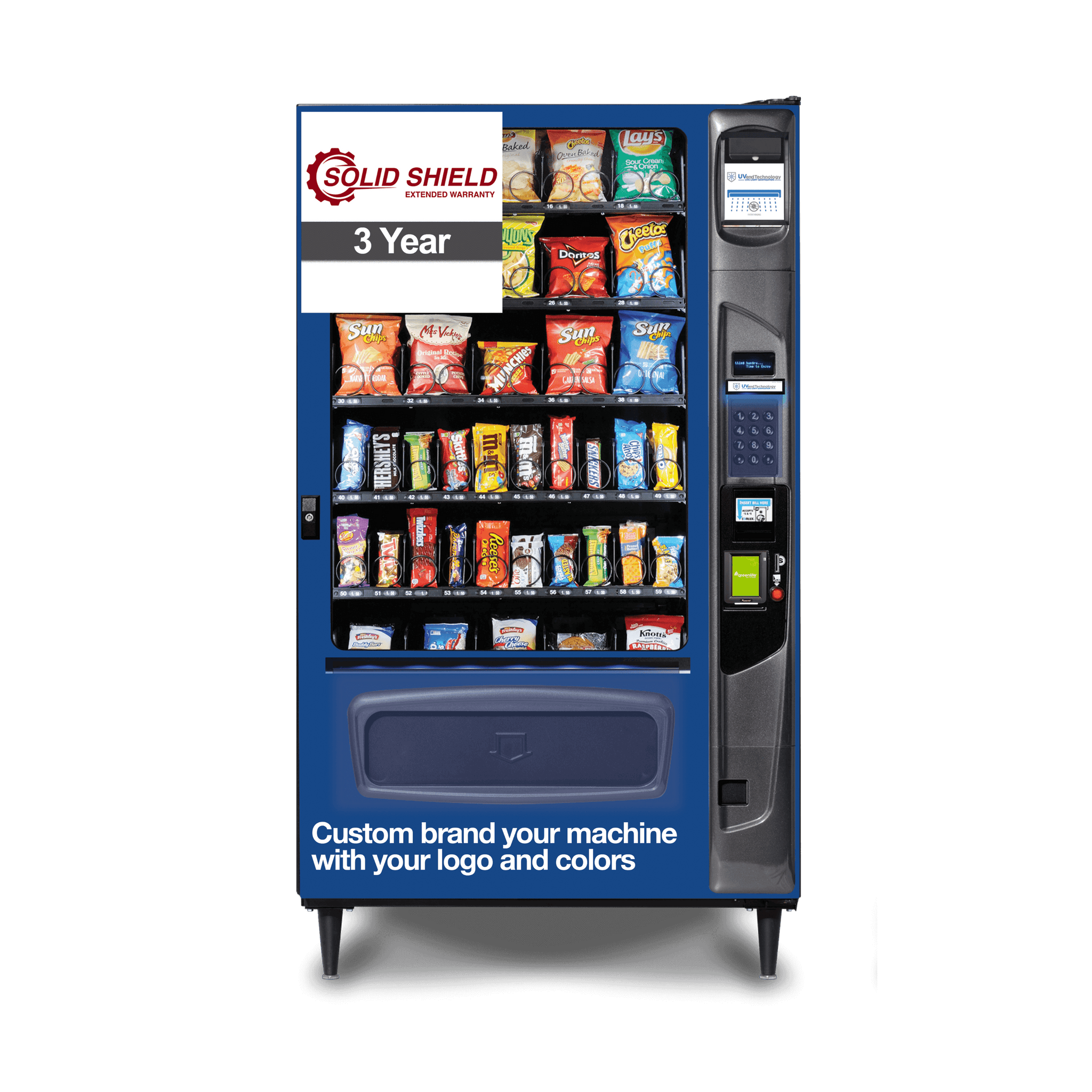 Our Satisfied Customers
Have a Look What They Says!
I was able to read through the manual and easily set up the pricing and get the machine running. I would recommend eVending.com to anyone looking to purchase vending equipment, as we have had a great experience.
Mario B.
M.D. Meadows Medical Galloway, OH
We looked at different machines that were available and decided on eVending.com. It was so easy to order. The machine arrived promptly and we got it set up in our apartment building for seniors and persons with disabilities.
Megan H.
I would like to tell you how very much we like our eVending.com machine! We absolutely love the fact that it is made in the USA, and we also love the ease of loading the items into the machine. The fact that we can vend anything from 12..
Michelle B.
The eVending.com Futura vending machine is the best combo vending machine out there. I purchased my first machine from another company, but the eVending machine hands down has them beat. The quality is great and it...
Eddie M.
Vend Pro Service Lake Worth, FL
Frequently Asked Questions
With our over 90 years of experience, we can provide for your vending needs. We offer flexible financing arrangements for any type of vending machine. eVending is dedicated to bringing affordable financing alternatives that personally fit the needs of each customer and are committed to providing the highest quality service.

In certain areas, state and local laws require eVending to collect applicable taxes separately from sales tax.

eVending.com ships vending machines to locations within the contiguous United States. Shipments to Alaska and Hawaii are available but must be quoted individually by contacting us at 1-866-451-3195. Buyer is responsible for inspecting their vending machine at the time of delivery for any visible or concealed freight damage. If the Proof of Delivery is signed without inspection, we cannot file a claim against the freight carrier, and any obligation from eVending.com is waived like shipping and returns, sizing, warranties, or product and company details.