Financing Available – Apply Now
Triple Vend Gumball/Candy Machine
3 Section Coin Operated Machine

All Metal Construction

Accepts Quarters

Heavy-Duty Cast Iron 18" Base and Stand
Factory Parts Warranty (Standard)
Solid Shield Extended Warranty Purchase additional protection for your vending equipment that goes beyond the scope of the standard Limited Parts warranty.

Heavy-Duty Cast Iron 18" Base and Stand
Perfect addition for any location, as it does not take up an abundance of space.

Accepts Quarters Only
Give customers quick and easy access to the candy they crave at a reasonable price.

Shatter-Resistant Plastic and All-Metal Construction
Provides durability for locations.

3-Section Gumball Machine
Vends candy selections in the outside two compartments and 1" gumballs in the middle compartment.

Lifetime Technical Support
Vendnet is your one-stop shop for all things vending – parts, services, and products. Get online support with vending manuals, how-to videos, and easy parts ordering.

The Top-Notch
eVending Experience
Product Details
Provide your customers with a variety of candy and gumball selections with the Triple Vend Gumball/Candy Machine. This triple vend machine gives your customers quick and easy access to the candy they crave at a reasonable price. The Triple Vend Gumball/Candy Machine features an all-metal triple head with a red and black cast iron stand. It vends candy and/or capsules in the outside two compartments and 1" gumballs in the middle compartment.
This triple vend candy machine with a stand features an all-metal construction complete with a shatter-resistant display. Of the three wheels on this gumball vending machine, one is dedicated to dispensing capsules and gumballs while the other two can be used for dispensing candy. The dispensing ratio for the various types of candies from this bubble gum machine can be set up before you begin using it. The coin vending machine can be operated only with the use of quarters and can hold up to 45 lbs of candy and gumballs. It's mounted atop a cast-iron stand that has an 18" base. This coin-operated gumball machine is best suited for dispensing candies like Skittles, M&Ms and gumballs.
The Triple Vend Gumball/Candy Machine is the perfect addition for any location, as it does not take up an abundance of space. This gumball machine is designed for use in indoor commercial spaces, such as small retail stores or outside of a supermarket. You can also place one on school or college premises for use by the students. Kids especially enjoy operating these machines and receiving the sweet treats that come out of it. This gumball machine can help you add to your daily business income without having to invest a great deal into its installation.
Capacity

45 lbs of product (15 lbs per section)

Height (H) / Width (W) / Depth (D)

43 1/2″

H x

16 1/2″

W x

11″

D
Shipping Weight

55 lb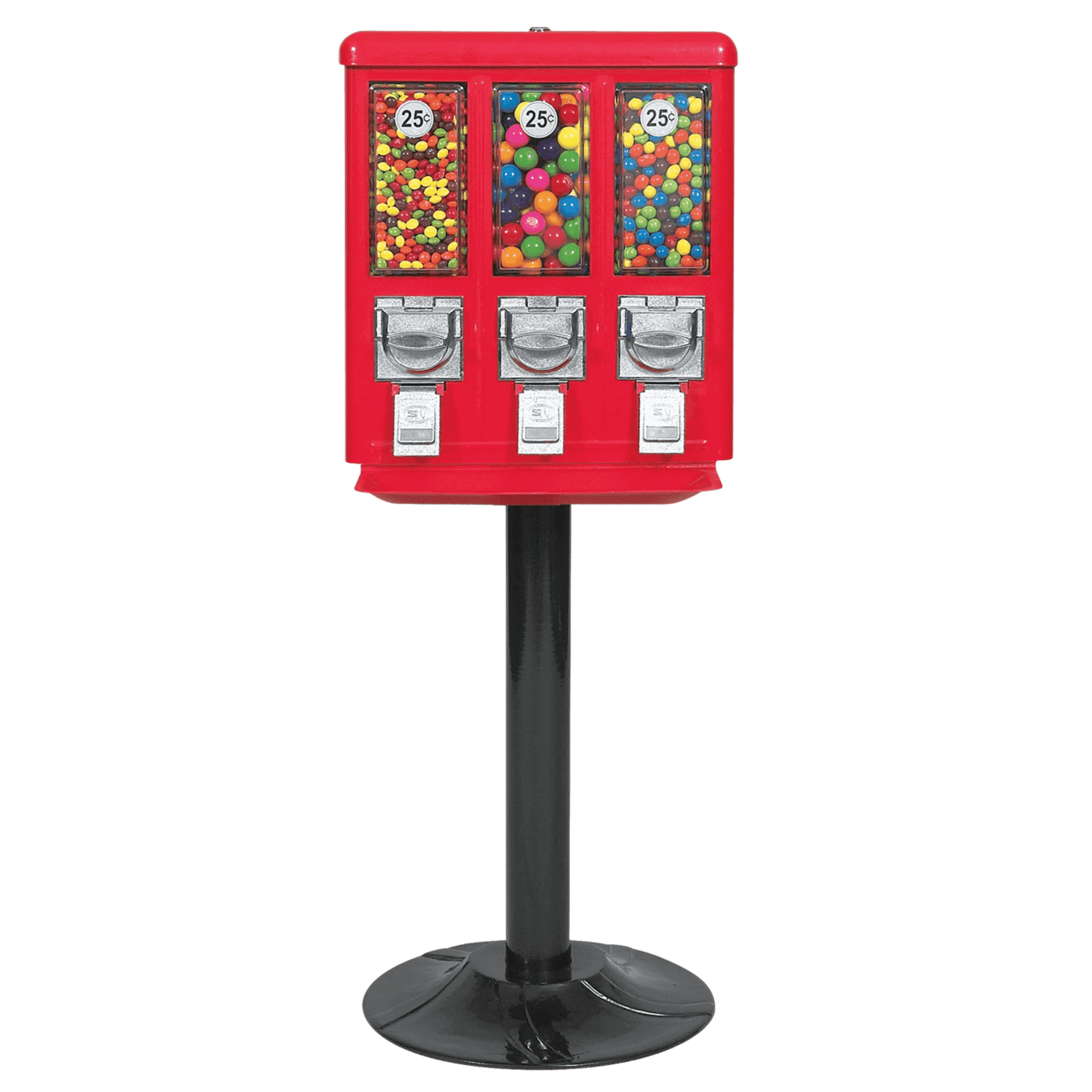 Our Satisfied Customers
Have a Look What They Says!
I was able to read through the manual and easily set up the pricing and get the machine running. I would recommend eVending.com to anyone looking to purchase vending equipment, as we have had a great experience.
Mario B.
M.D. Meadows Medical Galloway, OH
We looked at different machines that were available and decided on eVending.com. It was so easy to order. The machine arrived promptly and we got it set up in our apartment building for seniors and persons with disabilities.
Megan H.
I would like to tell you how very much we like our eVending.com machine! We absolutely love the fact that it is made in the USA, and we also love the ease of loading the items into the machine. The fact that we can vend anything from 12..
Michelle B.
The eVending.com Futura vending machine is the best combo vending machine out there. I purchased my first machine from another company, but the eVending machine hands down has them beat. The quality is great and it...
Eddie M.
Vend Pro Service Lake Worth, FL
Frequently Asked Questions
With our over 90 years of experience, we can provide for your vending needs. We offer flexible financing arrangements for any type of vending machine. eVending is dedicated to bringing affordable financing alternatives that personally fit the needs of each customer and are committed to providing the highest quality service.

In certain areas, state and local laws require eVending to collect applicable taxes separately from sales tax.

eVending.com ships vending machines to locations within the contiguous United States. Shipments to Alaska and Hawaii are available but must be quoted individually by contacting us at 1-866-451-3195. Buyer is responsible for inspecting their vending machine at the time of delivery for any visible or concealed freight damage. If the Proof of Delivery is signed without inspection, we cannot file a claim against the freight carrier, and any obligation from eVending.com is waived like shipping and returns, sizing, warranties, or product and company details.